Today, the book description of my guest, Shellie Blum, is a spot-on introduction to her and her life:
Shellie Blum
Escaping instantaneous death and paralysis from a hangman's broken neck, and shattered right jaw endured in a horrific watersking accident is only part of this unbelievable story. Follow Shellie on her journey from the Ozarks to Egypt and even the back alleys of Hollywood streets as she perseveres through more than her share of grueling set backs. You don't have to be a waterskier to enjoy this inspiring true story told by the first female freestyle waterski ramp jumper in the World!
Hi Shellie and welcome to Script Alchemy. I'm honoured to interview you today and highlight your memoir Waterski Girl Wonder. I'd like to look behind the behind the book, behind the horrible accident, and find out a bit more about you.
On the Channel 7 interview back in the 1980s, before your accident, we get to see your skill on waterskis - not only were you fantastic and daring, but you look like you were really enjoying it. Are you able to ski now? Do you do any water sports at all, or are you unable?
Shellie Blum interviewed for Channel 7 1980s
(image: YouTube)
Thank you Annelisa, that's the thing about professional show water skiing. It's our job to make it look easy and fun. After all, we are performing. It's a skill to be working so hard, but be able to smile and enjoy yourself. It's an underrated sport for the athleticism it takes to do what we do, the audience is busy just watching and enjoying it. In competition water skiing no one cares or notices if you're smiling. Performance show skiers are expected to ski anywhere, any time, in any kind of conditions, sometimes doing 4 to 5 shows a day. It takes a lot more stamina and athleticism than they get credit for, which leads me to the second half of your question.
I could ski, but don't! I wouldn't know how to hold back. I have never held back and, unless I can do "my thing", it really wouldn't be enjoyable for me. For all of my water skiing days, I was performing. I was pushing the limits. I don't think I could ever hold back and, having been told that if I took any high velocity falls I would be endangering my life, I just can't take the chance. I do enjoy the water though. We have a Sea Doo and I play around on it. I get my water fix through the speed, sights and smells while riding my personal watercraft.
Shellie Blum on her Sea Doo
That's a shame you can't water-ski now, but I'm glad you found a fun way to carry on enjoying the water (I'd love to try that - it looks so cool!). Apart from this, what other pastimes do you most enjoy now?
I spend a lot of my time on Social Media. Is that considered a pastime? I guess not really, but most of my day is spent communicating with my newfound family (friends) that I've made online. I'm also trying to get exposure for my memoir. I try to find a not so annoying way of connecting with people but at the same time self-promote my book project. It's amazing the advice I get from fellow writers and even laypersons. Some of the advice is good and inspiring, some of it, not so much. In the beginning, my feelings would get hurt, when someone would say, "You know, I wouldn't… (do this or that)'. Now, I just shrug it off and chalk it up to, "You can't please everyone."
Thinking about other ways the accident affects you, I understand from your LinkedIn page that, even now, you still suffer pain from your accident? How harsh is that pain? Do you feel that that reminder is a good or a bad thing? I mean, do you ever feel the pain, curse it, then remember where it's taken you today?
I deal with chronic pain yes but, compared to other people and what they have to go through, I try not to complain too much about it. I am blessed to be able to deal with it, and hope that maybe I can inspire others. I mean, you hear so much about people becoming addicted to pain pills. Not to sound too braggadocios about it, but I'm proud of how I've been able to deal with my chronic pain.
Do you feel that you developed the determination that had you trying over and over until you achieved your 'forward moving back flip', and was it that learnt determination that helped you work so hard at recovery after your accident? Or, did you always have determination to do what you planned to do, whether it was a really nifty ski move or whether it was to recover and live a normal life again?
This is one of those "chicken and the egg" questions, or even, "nature versus nurture" questions. Did I learn determination or can some of those traits be inherited? Perhaps a little of both, everyone grows up with their certain set of experiences. And everyone is endowed with a certain set of genes. I do think, though, that a person's strength of will can ultimately be the determining factor towards success or failure. And even more importantly is that the labels of success and failure are determined by a person's own perception of reality. What one person considers failure might be another person's success. (a nifty ski move learned or living a 'normal life') I've always gone with the idea that if I never give up, within my physical and mental limits, no one can say that I'm not successful.
Shellie Blum practicing the Back Flip (the Gainer)
that eventually caused her accident
(image: Waterski Girl Wonder)
That's very inspirational, Shellie. But not everybody is so positive. In Susanne Jenkin's interview Waterski Girl Wonder – Shellie Blum you say you are disappointed how some people close to you haven't been as supportive as you'd hope them to be. Who has been supportive, and would you most like to thank?
Well, to be honest, I've grown past expecting support from people that I thought would be more supportive. This whole process of self-publishing has been an uphill battle. My expectations were likely too high, especially in the beginning. I'll admit I've been somewhat Pollyannaish about the whole process. And I'm glad that I have been. It's been a protective shield that I think I've had all my life. To not see the negative in others, to always be expecting the best and most positive sides of people. I don't even realize to this day when someone is put off by my enthusiasm for my memoir. I find myself naturally gravitating to the positive people. And in return, I think they have been gravitating towards me. They know who they are, and they know I am grateful for their support.
What would you like to be the main message people take away from reading your book?
Keep on keeping on…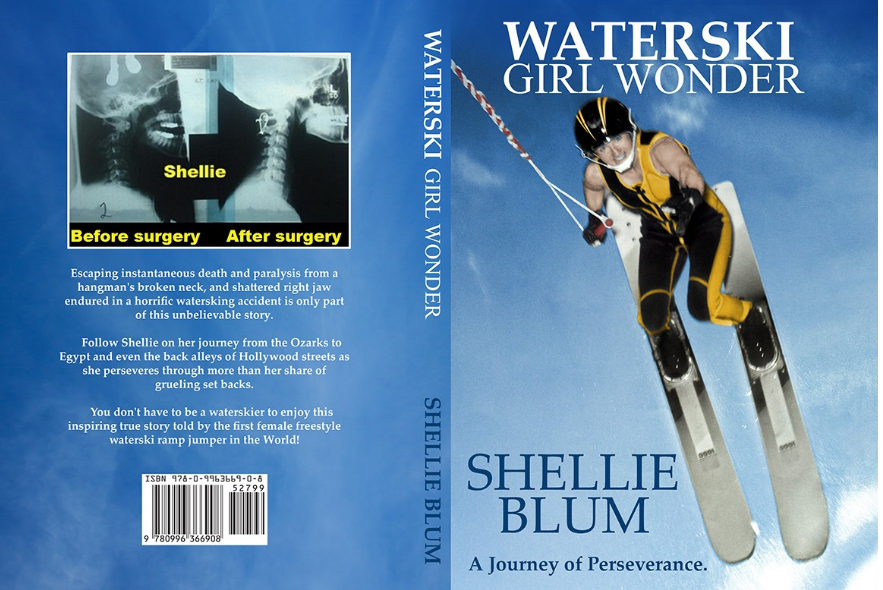 Waterski Girl Wonder (book cover)
I have to ask, now you've written a book, and your readers are giving it a big thumbs up (I've seen the reviews on Amazon!), you say in your interview on Ledger.com that you'd like to make the film of your memoir next. Do you have plans to write another book? Perhaps another non-fiction stemming from this one or, perhaps, an inspirational novel?
I think I might have another book in me, but I'm really busy with trying to self-promote this first one. The ultimate success for it would be a movie. Wouldn't that be awesome? A true story action adventure movie with a female lead that never gives up, I'd pay to see that movie! And see… some people will read that and think, "Who does she thinks she is?" And other people will read that and say, "That's Shellie, she's Waterski Girl Wonder." And I'll just leave it with, "Hey, a girl's gotta' dream!"
Where else can we find you?
I am trying to line up being part of a couple of book fairs. If I can make that happen I will post about it on social media. Plus, I'm trying to convince a couple of brick and mortar bookstores to add my book to their inventory. We will see how that goes.
[Latest Update]
Interview with Jane Waters Thomas:
Writers Den #18; Jane Waters Thomas, Shellie Blum
(
Oct 10, 2016)
Other places to connect
Website:
Waterski Girl Wonder
Goodreads:
Shellie Blum
On
LinkedIn
On Twitter:
@shellieblum
On
Facebook
On Amazon:
Author Page
Book:
Waterski Girl Wonder
On
Google Plus
Read more about Shellie (then buy the book! ;-) )
Waterski Magazine
:
Waterski Girl Wonder, Shellie Blum's Memoir
The Right Perspective
:
Introducing Author Shellie Blum (An Author Spotlight)
Susanne Jenkin:
Waterski Girl Wonder – Shellie Blum
The Ledger
:
Shellie Blum's memoir details life of stuntwoman on skiis
Curves Welcome
:
Interview with Author Shellie Blum
Just Fooling Around With Bee or The Bee Writes
:
The Bee Talks with Shellie Blum
Betrayal of Trust
:
Author's Corner: An Interview with Shellie Blum